Experience a revolution in game development and interactive storytelling with Backlight Gem's groundbreaking REST API. Gem's API promises to transform your creative workflow with seamless integration, customization, and automation of Gem script content with external tools in your game development pipeline.
[TL;DR]
🌐 A World First: Gem's API sets a new standard, as it's the first-ever writing solution equipped with RESTful capabilities.
🔧 Create Customizable Integrations: Manage Gem script content with other software in your game development pipeline.
🔄 Streamline Content Management: Automatically update Gem projects with script changes made in your tools, ensuring content synchronization.
📈 Scalable and Reliable Infrastructure: A robust and manageable infrastructure for integration.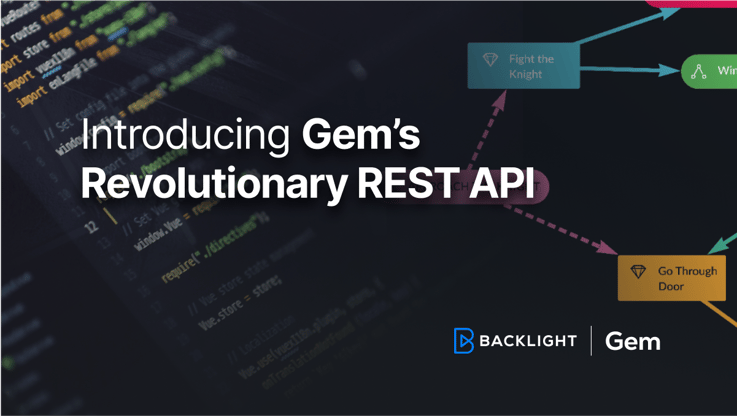 Great storytelling can transform a decent video game into a gripping, unforgettable adventure. It can be frustrating, then, when narrative development takes place outside the game development process rather than acting as a core driver of day-to-day production. Failing to see narrative as a critical element in video game production can reduce efficiencies and hamper plot integrity.
We tackle this challenge head-on at Gem with our narrative management system, which supports the narrative design process across every stage of the development lifecycle. And now, we're taking this capability to the next level. Introducing Gem's cutting-edge REST API – your toolset to revolutionize the narrative design process.
"At Pixel Crushers, we have many customers who use Backlight Gem to write dialogue for their Unity games. They love Gem's screenplay-style interface and the ease of using the Dialogue System for Unity to import and run their Gem content in Unity. Now, with Gem's REST API, their workflow is going to be even more convenient and efficient – and they're only going to create even better stories!"
– Tony Li, Pixel Crushers



Gem's REST API is available today for all Gem users. You can learn more about the API and ask the development team your questions in our upcoming webinar, "See the World's First REST API in a Narrative Management Solution," taking place on 3 August 2023.
Introducing Gem's REST API
Introducing Backlight Gem's REST API – a world-first of its kind in a writing solution. Naturally, we're pretty excited about that. Gem's REST API has the potential to totally transform how you integrate narrative design into your development pipeline and production tools, and in turn, help you to write stories and build even richer worlds for players to explore.
How does it do that? Allow us to explain!
Gem's REST API replaces our old export API service, empowering an all-new, two-way communication powerhouse. It's like switching from a one-way street to a freeway, thanks to Amazon's serverless architecture that provides a scalable system for managing bi-directional API calls. So, while Gem could already export detailed JSON data models, we're upping the ante, empowering you to integrate narrative into your workflows and pipelines like never before.
The REST API facilitates the round-tripping of Gem data, so you can, in a very targeted fashion, extract your project data/story content and inject it into tools in your game development pipline, manipulate the data in that external environment, and have those changes mirrored inside of Gem.
And what does that mean? Well, that's up to you. Gem's API empowers you to build integrations and automations limited only by your creativity. You can tightly integrate, customize, and automate narrative design with existing pipelines and workflows – whether it's level design, character animation, gameplay scripting, voice-over recording, localization, or anything else you can think of.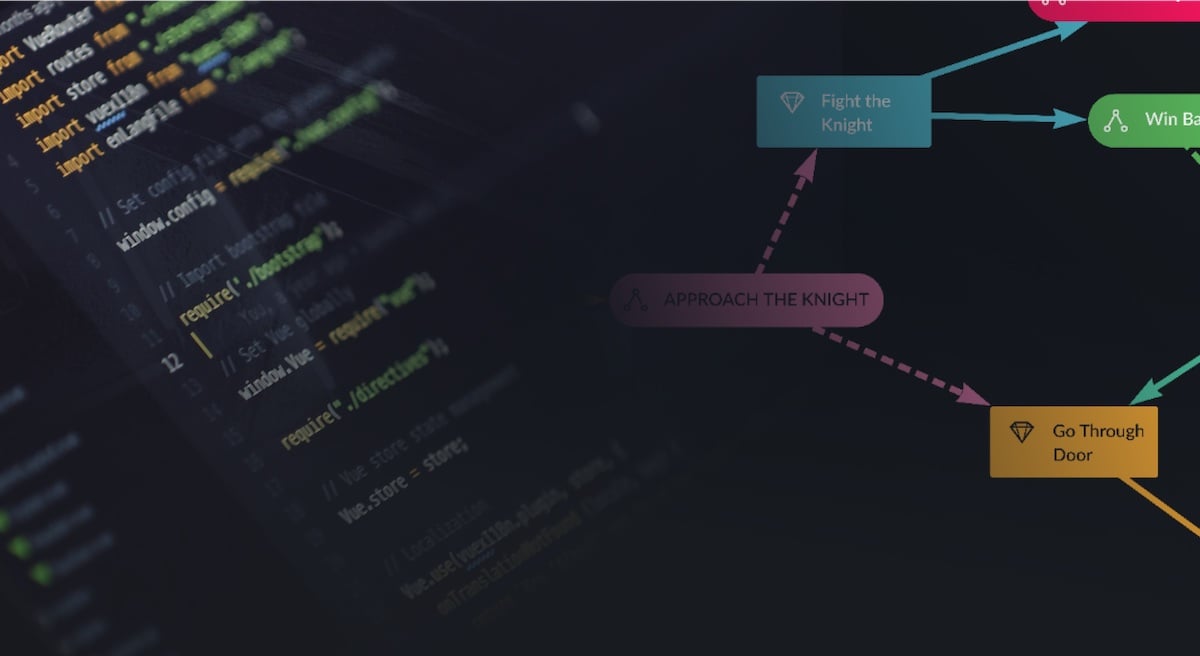 Transform your Writing Workflow with the Power of Gem's REST API
• Create Customizable Integrations with other tools: Tailor workflows to unique project requirements. Our API offers an adaptable system to manage Gem script content with other software in your pipeline, whatever those tools may be.
• Streamline Content Management: Our API eliminates manual file handling and ensures seamless content synchronization across tools, fostering better collaboration and pumping up your team's productivity.
• Scalable and Reliable Infrastructure: Powered by Amazon's serverless architecture, our API presents a strong and flexible foundation that effortlessly meshes with your chosen tools.
• A Class of its Own: Gem's API isn't just another API; it's the world's first writing solution boasting RESTful capabilities. Think of it as your comprehensive command center for narrative management, exclusively crafted for game developers.
What Can You Do with Gem's REST API?
For Narrative Designers: Take your Gem script data, modify it using your go-to tools, then funnel the updated content right back into Gem. It's a powerful tool for shaping the perfect narrative arc for your games.
For Audio Directors: Master your pipeline's data flow with precision. Connect your dialogue and localization database with Gem and keep a sharp eye on progress across multiple projects.
For Producers: Leverage the API to synchronize content changes made by artists, writers, and designers to ensure a streamlined content creation process. You could even integrate narrative content with localization efforts to ensure all translation happens at the right time.
For CTOs and Engineers: Integrate Gem with other tools and services and automate content extraction, modification, and injection, to create an adaptable and efficient development pipeline.
In the world of game development and interactive storytelling, Backlight Gem's REST API is the missing piece with the power to transform the narrative design process.
If you're already a Gem user and would like to access the API, you can get started using the Swagger API documentation available here:
If you'd like to book a pipeline consultation to see how Gem and the API can help you deliver stories that engage and delight players, please get in touch using the link below.
Embark on your narrative journey with us today, and experience what's possible firsthand!